Scented candle - 100% vegetable wax
A perennial water plant, waterlily or Nymphaea is a member of the Nymphaeaceae family. If the Nymphaeas gather today 35 species around the world, until the 19th Century, in Europe, we only know the white flowers nympheas. French horticulturists then decide to cross european and tropical species to create coloured hybrids that will later be exhibited in the Trocadero's basins during the Paris universal exhibition in 1889 and featured in Claude Monet's painting untitled « Les Nymphéas ».
In collaboration with the Paris national Museum of natural History, Carrière Frères highlights plants that are unusual, exotic and packed with history. Find out more about this partnership.
After a vegetal yet subtle floral top note, the waterlily reveals fruity tones that are enriched by coloured and succulent notes.
The fruit-filled and aquatic notes of the waterlily help :
✓ To overcome sleep disorders,
✓ To rest and overcome anxiety.
Weight: 185g / 6.5 oz
Burning time: 40 to 45 hours
Dimensions: H: 9 cm Ø: 7.5 cm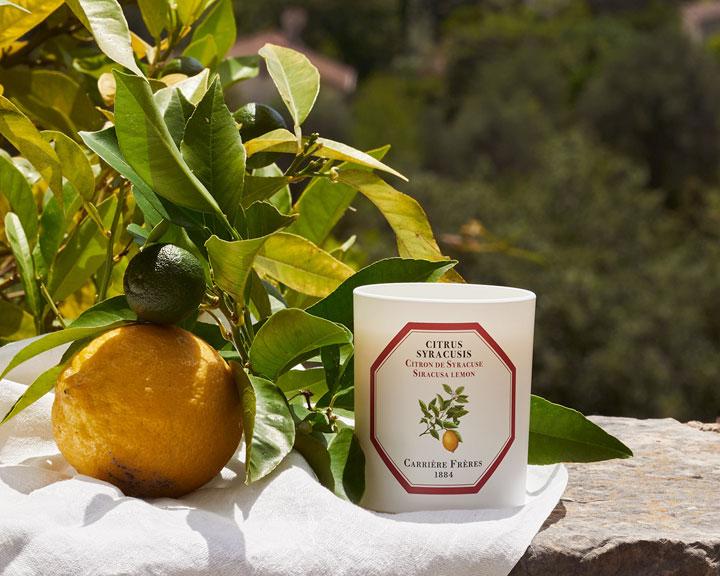 Our Commitment
Each candle is made according to ancient expertise and handcrafted in our workshop in Normandy; the candles' perfume comes from a blend of natural raw and synthetic materials. Since 2022, each of our candles and botanical palets are formulated with 100% vegetable wax, from European organic rapeseed.
To limit the packaging's environmental impact, no plastic or non-essential materials are used. Carrière Frères opts for a natural approach with boxes made from 100% recycled and recyclable FSC paper, labels made from FSC paper (40% recycled) and printing using vegetable-based inks.
Instructions
Never leave a lit candle unattended, and do not burn one for more than 2 hours at a time.
Always burn a candle until the entire surface liquifies, and allow it to solidify before re-lighting.
Keep the wick trimmed to ¼ inch at all times, to avoid any black smoke. Gently re-position the wick while the wax is still molten.
Always protect the surface on which the candle rests.
Once only ¼ inch of wax remains, blow out the candle and let it fully cool before safely discarding it.