Scented candle - 100% vegetable wax
Siberian Pine & Smoked Wood Candle
This winter, Siberian pine meets the woody scent of smoked wood: the ideal fragrance for the arrival of colder days. Its intense scent warms up the atmosphere creating a woody fragrance as enveloping as it is reassuring. By eliminating negative energies, smoked wood joins the Siberian pine for a comforting holiday season.
The association of pine needles and the smokiness of a crackling fireplace keeps us warm for the winter season. It is perfect to:
✔ Help with meditation and yoga  
✓ Improve concentration
✓ Eliminate negative energies
✓ Reduce stress and anxiety issues
Infused with delicate amber notes, the intense scent of the Siberian Pine and Smoked Wood candle warms up the atmosphere. A woody fragrance as enveloping as it is reassuring.
Weight: 185g / 6.5 oz
Burning time: 40 to 45 hours
Dimensions: H: 9 cm Ø: 7.5 cm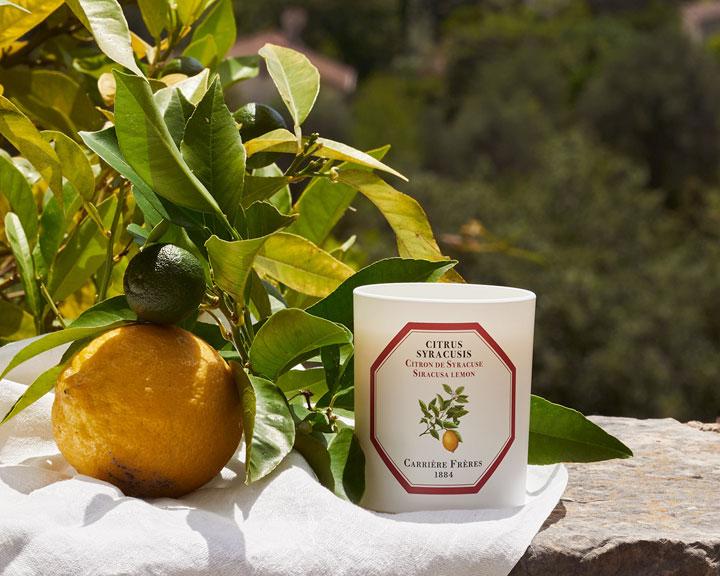 Our Commitment
Each candle is made according to ancient expertise and handcrafted in our workshop in Normandy; the candles' perfume comes from a blend of natural raw and synthetic materials. Since 2022, each of our candles and botanical palets are formulated with 100% vegetable wax, from European organic rapeseed.
To limit the packaging's environmental impact, no plastic or non-essential materials are used. Carrière Frères opts for a natural approach with boxes made from 100% recycled and recyclable FSC paper, labels made from FSC paper (40% recycled) and printing using vegetable-based inks.
Instructions
Never leave a lit candle unattended, and do not burn one for more than 2 hours at a time.
Always burn a candle until the entire surface liquifies, and allow it to solidify before re-lighting.
Keep the wick trimmed to ¼ inch at all times, to avoid any black smoke. Gently re-position the wick while the wax is still molten.
Always protect the surface on which the candle rests.
Once only ¼ inch of wax remains, blow out the candle and let it fully cool before safely discarding it.