Scented candle - 100% vegetable wax
Lavender grows wild in the south of France: highly fragrant, its flowers bloom in Summer and its perfume naturally evokes Provence. A grey-green bushy shrub, beds of lavender are topped with numerous mauve-purple spikes.
Both wild and medicinal, sometimes powerful, its sweet, sometimes even overwhelming fragrance is that of the passions of love.
The scent of beautiful days, lavender recalls the nostalgia of Summer.
It is relaxing and known for:
✓ Soothing anxiety, nervousness and restlessness,
✓ Helping to fall asleep fast,
✓ Inducing restful sleep,
✓ Helping to reduce agitation and insomnia.

Weight: 185g / 6.5 oz
Burning time: 40 to 45 hours
Dimensions: H: 9 cm Ø: 7.5 cm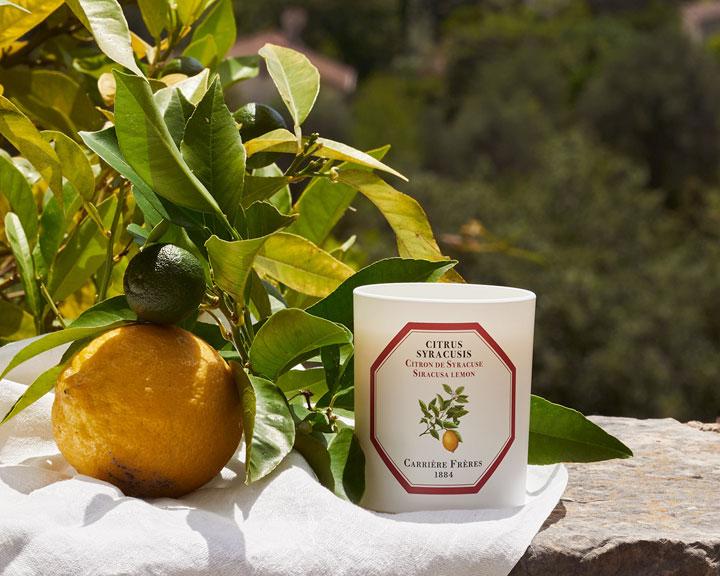 Our Commitment
Each candle is made according to ancient expertise and handcrafted in our workshop in Normandy; the candles' perfume comes from a blend of natural raw and synthetic materials. Since 2022, each of our candles and botanical palets are formulated with 100% vegetable wax, from European organic rapeseed.
To limit the packaging's environmental impact, no plastic or non-essential materials are used. Carrière Frères opts for a natural approach with boxes made from 100% recycled and recyclable FSC paper, labels made from FSC paper (40% recycled) and printing using vegetable-based inks.
Instructions
Never leave a lit candle unattended, and do not burn one for more than 2 hours at a time.
Always burn a candle until the entire surface liquifies, and allow it to solidify before re-lighting.
Keep the wick trimmed to ¼ inch at all times, to avoid any black smoke. Gently re-position the wick while the wax is still molten.
Always protect the surface on which the candle rests.
Once only ¼ inch of wax remains, blow out the candle and let it fully cool before safely discarding it.